The Bear Creek Greenway connects the communities of Ashland, Talent, Phoenix, Medford and Central Point with an 18-mile paved, multi-use trail. Bicyclists, skaters, runners, and walkers use the trail for transportation and recreation.
Community parks along the Greenway offer restrooms, drinking water, playgrounds and picnicking opportunities. The Greenway provides easy access to many restaurants, coffee shops and bike shops in the communities it travels through.
Enjoy the Bear Creek Greenway!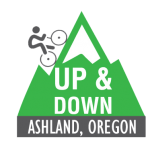 THE 2017 UP & DOWN Bike Event on July 22, 2017 will have even more to offer in the way of challenge, scenery, support and food. We have two routes this year: the original Scenic Bikeway route and The Burton Flat, a second, longer route for riders looking for even more of a challenge. This second route will change every year but will encompass the climb up the Greensprings and the descent on Dead Indian Memorial Road. Both routes begin and end at Emigrant Lake on Hwy 66, four miles south of Ashland.
We will again offer a terrific bar-b-q lunch after the ride with craft beer, shady tables in the pavilion, a nearby water slide and lots of camaraderie among fellow riders. Find out more here.
Proceeds to support the Bear Creek Greenway!